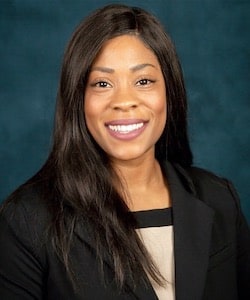 Chantelle Robinson
Chantelle represents clients in Child Abuse Central Index grievance hearings throughout California. With the fortitude she gained as a veteran of the US Navy and the skills that earned her the Best Oralist designation in law school, she has had great success representing clients in CACI proceedings. She has helped clients in the following counties: Monterey, Riverside, San Diego, San Joaquin, Santa Clara, and the list is growing.
Chantelle has been the firm's go-to legal researcher and evidentiary strategist. Prior to joining the firm she worked at the world-renowned California Innocence Project, where she planned evidentiary and legal discovery strategies.
Chantelle works well with clients and witnesses in preparation for CACI hearings. She previously worked for the Superior Court of California where she interviewed parents and family members in preparation for family law court proceedings.
Tate Lounsbery said of Chantelle, "More than anything Chantelle wants to make a positive difference in people's lives. It's obvious to me that that's what drives her commitment and her work ethic. She knows the terrible price our clients pay for being on the CACI and fully commits to correcting the injustices they suffer. She knows her clients' cases better than anyone. She knows every detail inside and out. When she gets to the CACI hearing, her familiarity with the facts gives her a great advantage over the opposing lawyer for the county, and even over the CACI grievance hearing officer. She's a force to be reckoned with for sure."
Education
M.L.S., Trinity Law School
J.D., Trinity Law School
B.A., National University
Jurisdictions Admitted to Practice California